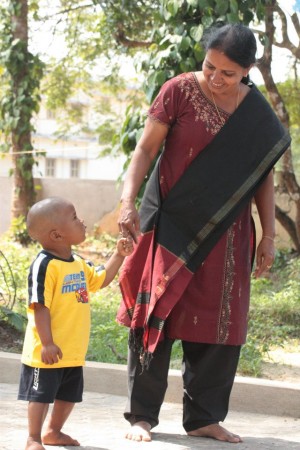 Manasa Jyothi Koni is a wonderful home for 18 disabled children in India. The have just moved to a new place where there is enough space for 25 disabled children. The new place, Koni, is very green, has a beautiful garden where the kids can play and there will be a vegetable garden, so they can produce their own vegetables.
Every child has the right to grow up in a safe environment. Unfortunately in India that's not always the case, especially when one is disabled.
Many children who are disabled in India end up on the streets and they have to beg for money to survive. Or they end up in homes like Manasa Jyothi.
Before the children of Manasa Jyothi suffered a lot, they got beaten or even worse. But since 4,5 years Shobha Madhyastha and Maartje from the Netherlands are managing Manasa Jyothi in a very wonderful way. The children are happy and will win a place in your heart for sure. They make you smile every minute and forget all your trouble. They will love you like their own sister or brother. Working with these kind of children gives you happiness inside.
Manasa Jyothi Koni
Manasa Joyhti Koni is a founded residential for children with a disability. It is located in the village Koni, around 10 minutes away from Kundapura. The school land is given by a relative from Shobha madyhastha ( the administrator of Manasa Jyothi). In October 2011, with help from the Netherlands we build a new school for the children. Manasa Jyothi is not funded by the government but by a private trust and does not ask the parents for any fee. Therefore manasa Jyothi gives disabled children without parents or with parents that cannot or do not want to care of the children, a place to live and receive education. For some children Manasa Jyothi is their only chance in society. Some parents take their children home for holidays, some only visit them once a year and others never come.
Now there are 18 children between the age of 5 and 25 years. The children make up a cooperative "family", where the elder children help the young ones. Because the Indian Trust can only cover 40 % off all cost, Maartje and her family started a family foundation to support Manasa Jyothi in the best possible way. The foundation is from the Netherlands and started in 2008.
The Foundation of the Netherlands
When Maartje arrived in Manasa Jyothi in 2007, the children and the building were in very bad shape. Most children were severely beaten and even worse things happened to the girls. Maartje decided to stay and give up her life in The Netherlands to make sure these children would get a better future . With full support from the Indian Trust, Manasa Jyothi Trust, and help from Shobha Madhyhasta, she started to rebuild Manasa Jyothi. Because she had to start from the being a lot of help and money was needed. At that time a Dutch tv channel made a documentary about Maartje in Manasa Jyothi, after seeing the documentary, her family and friends decided to start a foundation to support the Manasa Jyothi Trust.
Now after 4,5 years the Dutch foundation: Stichting Japthi Mijdrecht, donated money for the construction of the new building in Koni and is paying every months all other cost that are necessary to give the children in Manasa Jyothi a change of a better and healthier future.
For more information about Manasa Jyothi in English please visit the website from the Manasa Jyothi Trust: www.manasajyothi.jimdo.com
Name: Stichting Japthi Mijdrecht.
place: Mijdrecht, the Netherlands
IBAN nummer for Japthi is: NL76RABO0148119530.
BIC code is: BIC RABONL2U